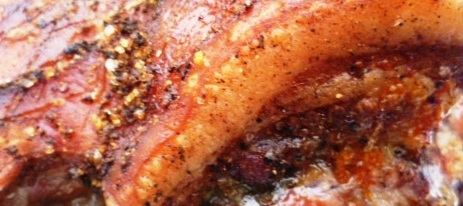 Pork shoulder is one of the most underrated cuts of meats, probably because it is often cooked like other cuts of pork and it shouldn't be. Pork shoulder, like pork belly has a lot of fat through it. This is a bad thing if you cook it quickly, but if you cook it slowly the fat melts away to leave succulent, falling apart meat. And if you get it very hot at the end then the cracking is great. Pork and fennel go brilliantly, the seeds or the bulbs, but for this recipe I am using seeds.
Generally this is best with a piece of pork of 4lbs in weight or above. And this is not about timing in particular, the longer you cook it the better. The minimum is 4 hours.
5lb shoulder of pork well scored
½ tbl sea salt
½ tbl fennel seeds
1 tbl Olive oil
Get the pork out and get it to room temperature. Make sure it is dry. Heat your oven as hot as it will go. Grind the salt and fennel seeds in a pestle and mortar or spice grinder. Mix with the oil and rub into the crackling. Put the meat into the hot oven and cook very hot for the first 20 minutes. This gets the crackling started. Then turn down the oven to 120C fan, 130C without and cook for another 4 hours. After this, turn the oven up full, take out the meat, pour off the juices and keep for the gravy. Separate the oil and put it back into the pan. Baste the meat and put it into the oven for another 20 minutes, basting every five minutes. The crackling should come out crisp and the meat caramelised at each end, but falling apart in the middle. Rest for 10 minutes before serving.