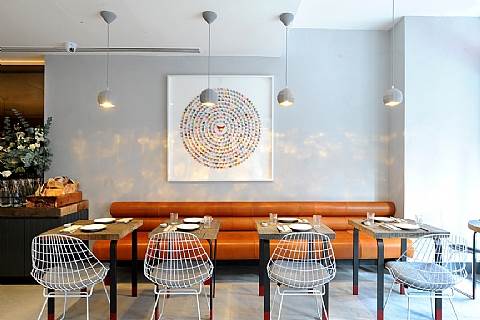 Informal, light, modern, but warm. Gail's Kitchen, like so many others, has taken on the small plate or tapas format. To start with the venue is very welcoming and quite cool, in a Nordic metal, wood and white walls kind of setting, not something you would necessarily expect from a restaurant that developed out of a bakery. There is an open kitchen and long bar, as well as the aforementioned bakery and the restaurant.
What about the food? These are not tiny small plates (tautological?) , they are well proportioned. And the food is very good. Mackerel rillettes and spinach rotolo were my favourites and the puddings sounded great, especially the ice cream sandwich, but was too much for lunch, so we just shared three freshly baked, hot cookies.
All in all very good, slightly off the beaten track and good value; definitely recommend.
11 – 13 Bayley Street London WC1B 3HD
020 7323 9694