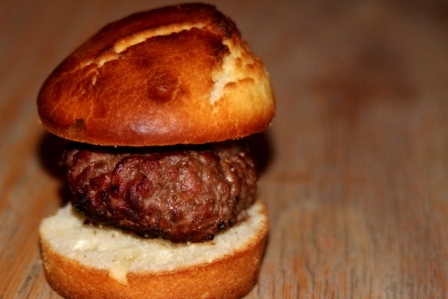 The best burger has to have the best burger bun and in my view it has to be a brioche bun. Now you can make this recipe by hand, but I would strongly advise you use a mixer with a dough hook. Not only does it make it so much quicker and easier, it also means you have a runnier, lighter mixture than rises better and is more like the classic burger bun texture. The second, yet most important, ingredient is the burger itself. That should be nothing more than pure steak mince. Buy the best quality you can, with a reasonable fat content, not too high or too low, it shouldn't be over minced. Course ground is good, it provides texture and then all you do is shape the burger. A little salt on both sides and then cook them. A barbecue is best, but grilled or pan fried works well. The finishing touch on the burger is the cheese and the onion. For the onion, I either like very thinly sliced raw Spanish onions or, a British onion, sliced and slow cooked in a little oil and cast sugar until it goes dark caramel coloured and when cooled is crisp. This recipe goes for the latter as it work well with the brioche bun. The best cheese for this is gruyere, although a good cheddar is great as well.
Ketchup must be Heinz, Mayonnaise – Hellmans, mustard – Dijon, and there should be a good gherkin and a baby gem lettuce leaf.
Brioche Buns
1 small pack of plain flour
1 pack of dried yeast
2 tsp fine salt
80ml milk
6 eggs
1.5 packs of butter softened (unsalted)
2.5 tbl caster sugar
Eggwash – 2 egg yolks with 1 tbl milk
First warm the milk to body temperature, add a teaspoon of the sugar and the yeast. Stir well and leave for five minutes. Put the flour and salt into the mixer with the dough hook. Add the eggs and the milk yeast and mix for 15 minutes on a medium to low speed. The dough should be elastic at the end of this. Separately cream the butter and sugar together, then add a bit at a time to the mixture and then knead for another 15 minutes. Leave to prove in a warm place covered with a tea towel for an hour or so, until it has doubled in size. Knock the air out of it and then using Yorkshire pudding moulds, lightly greased/buttered, fill them 1/3 full with the dough. Leave to prove for ½ an hour, then paint the tops with eggwash and bake in an oven at 200C/180C fan for 15 minutes. Take them out of the oven, cool for 5 mins and take out of the tin.
Crispy Onions
2 onions
4 tsp caster sugar
Once cool, make your crispy onions. Slice them finely, put a tablespoon of olive oil in a pan, add the onions, fry for 3 minutes, add the sugar and turn the heat right down and fry for 30 minutes at least.
Burgers
500g Steak mince – makes 6 burgers
Slices of gruyere
Shape your burgers, lightly salt on both sides, cook until medium rare. Add the cheese and cook until melted. They should be medium at the end.