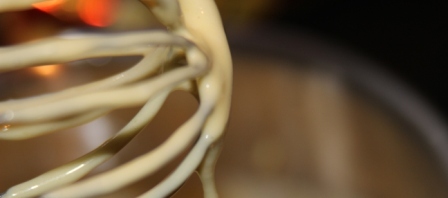 Surprisingly quick and not too tricky to make. It looks more difficult than it is and you end up with one of the great sauces for meat or some fish.
2 egg yolks
½ pack of butter
2 tbsp white wine vinegar
1 tsp dried tarragon
1 tbsp fresh tarragon
Salt to taste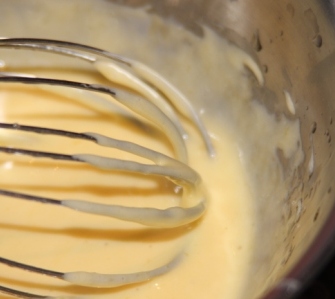 Heat the vinegar in a pan with the dried tarragon, reduce to one teaspoon of liquid and strain. Once cold put it into the top pan of a bain marie (off the heat) with the egg yolks. Melt the butter. Now you need to work quickly. With the egg and vinegar mixture over the bain marie, whisk it until it is light and frothy. Take it off the heat before it cooks and you end up with scrambled yolk. Then starting with just one drop of butter, whisk in the butter to the egg yolk. Once you have got to 5 or 6 drops you can start increasing the flow of butter. Keep pouring and whisking the butter it making sure it is always fully incorporated. Using all the melted butter you should end up with a thick mayonnaise consistency. Now chop the fresh tarragon, add it and add salt to taste. The sauce it done. It needs to be used within about 30 minutes and kept warm but not hot.