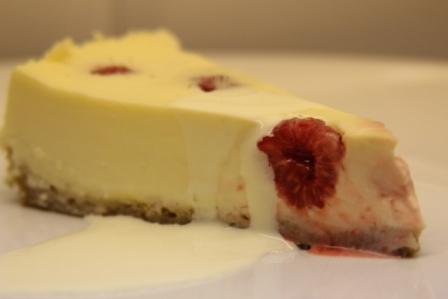 The challenge with a lot of puddings is that they are complicated, or more to the point they involve a lot of stages to make them really work. In tarts you need to make the pasty and blind cook it, well cheesecake does away with this. The biscuit and butter base is one of the simplest things you can make and the filling is a basic set custard using mascarpone. With that you can then flavour them as you like and they are very quick and easy to make. You do need to make it in advance as it needs to be cold when eaten.
Ingredients
Base
Half a small packet digestive biscuits
Half a pack of butter softened – 125g
Filling
2 eggs
Quarter of a pint or half a pot of double cream
2 tubs of mascarpone (250g each)
1 tsp vanilla paste or half a teaspoon vanilla essence
2 tbsp of caster sugar
2 Punnets of raspberries
Heat the oven to 160C. Get one 20cm / 8-10 inch round cake tin with a removable base. Non-stick make it so much easier. Crush the biscuits in a food processor. Add the butter and whizz until fully mixed. Pour the mixture into the cake tin. Push it down evenly with your fingers until it is firmly packed. Put it in the fridge for a minimum of 15 minutes, more is good. Now make the filling. Put all the ingredients apart from the raspberries into the food processor (cleaned of biscuit base). Pulse gently until completely mixed. Pour the mixture into the cake tin on top of the base. Drop the raspberries evenly into the mixture. Put in into the oven for 20 minutes. What you want is the cheesecake just set. Check it, if it is still liquid cook for a further 10 minutes, checking at 5. If it is mainly set and just a bit wobbly take it out of the oven to cool slowly. Then put it in the fridge. It needs to be cold to be properly set. Serve with cream or a raspberry coulis.