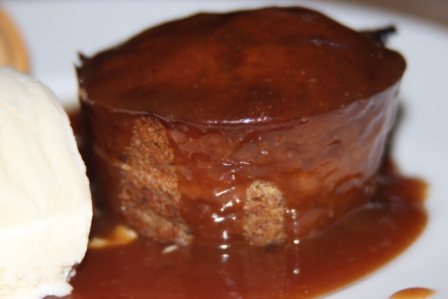 Like the more traditionally figgy pudding, sticky toffee pudding owns is stickiness to a high sugar fruit, the date. In this instance I have gone for medjool as they are the sweetest. There are two ways of achieving the same end. In one you can roughly chop the dates in the other you blitz them. For this recipe I am blitzing.
Ingredients
1 pack of butter
3/4 cup of soft brown sugar
4 eggs
2 cups self raising flour
½ tsp baking powder
2-4 tbl milk
1 pack of medjool dates
First blitz the dates in a mixer with the milk until you have a smooth paste. Cream the butter and sugar together. with an electric whisk until it is light and fluffy. Add the date mixture. Mix the eggs in a separate bowl and add to the mixture. It might curdle but that leaves you with a slightly heavier cake. Once mixed add the flour and baking powder and fold it in with a metal spoon making sure it is well incorporated. At this stage, judge how soft the mixture is, add 1-2 tablespoons of milk if needed to get it to a dropping consistency (it just about falls of a spoon). Put the cake into individual Yorkshire pudding trays, filling each one 2/3rd full. Bake in an oven at 180C/160C fan for 20 minutes. Test with a skewer, if it comes out clean they are done. Let them cool completely.
Toffee Sauce
6tbl caster sugar
6tbl double cream
Put the sugar in a pan with a little water. Heat the sugar without stirring until you get a dark caramel colour, take it off the heat and add the cream. It will bubble at this stage, but stir it in and you get a dark toffee sauce.
Before serving put the cakes in a hot oven 180Cfan/200C for five minutes. Gently warm the sauce. Put a cake on a plate, pour over the sauce and serve with ice cream.