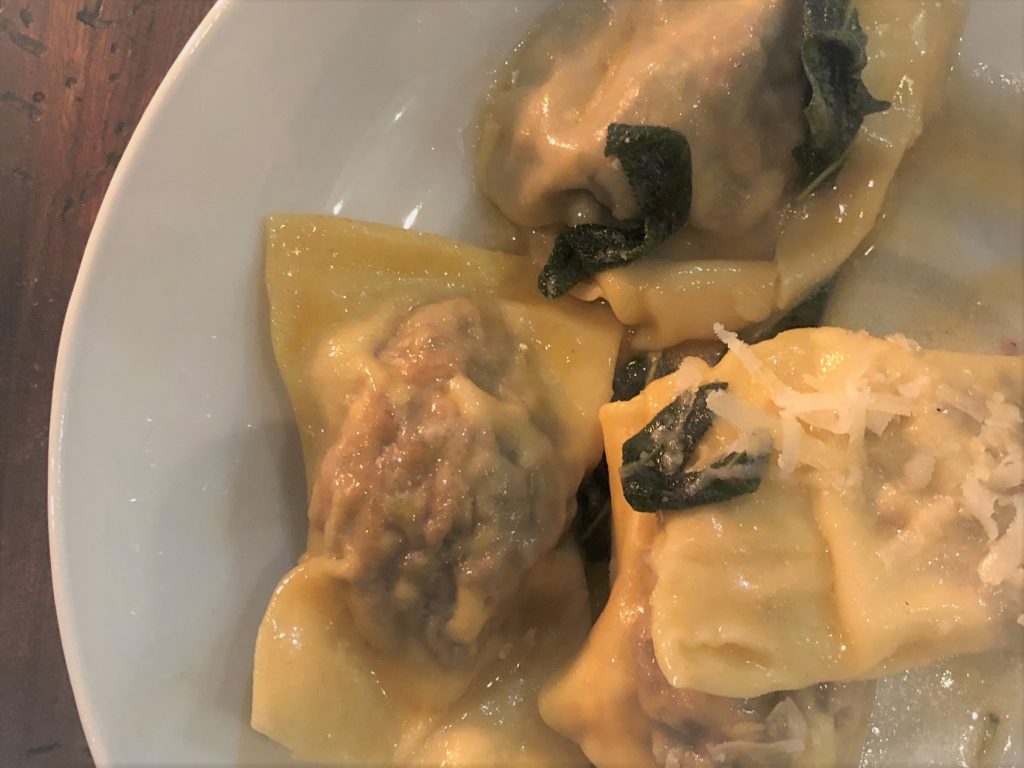 I haven't posted for ages, but my guests last night thought this was great. In fact i have lied about the title as I cooked the beef in a pressure cooker to speed things up.
1lb shin of beef
1 bottle red wine
1 carrot
1 onion
1 stick of celery
200 ml beef stock
2 tbl tomato puree
a cup of parmesan shaved
1/2 cup of chopped parsley
Pasta
500g 00 Flour
6 egg yolks
3 whole eggs
Sauce
30 sage leaves
100g butter
Fry the onions, celery and carrot until soft, add the wine, stock and tomato puree. Put the lid on the pressure cooker and cook for an hour. let it cool completely, then get it fridge cold. pull the meat apart, mix with the parmesan and parsley, test for seasoning and the squeeze into 1.5 cm balls. Fridge again.
put the flour and eggs in the food processor and mix until nearly coming together. Kneed on a worktop for 3 minutes. Wrap in clingfilm and rest for an hour at least. Roll out the pasta and then roll it through a pasta machine until it is on its finest setting. Put a ball 2/3 of the way down the pasta and 2 cm apart. Brush the bottom edge with egg wash, fold the pasta over and then cut between the balls and seal with fingers, getting all the air out. Place on a semolina flour tray and let it dry for half an hour.
Melt the butter in a pan, add the sage and gently cook for 2 minutes. Place pasta into boiling water and cook for 2 minutes until al dente. pour a little pasta water into the sage butter and mix. drain the pasta and add to the sage butter sauce. plate.