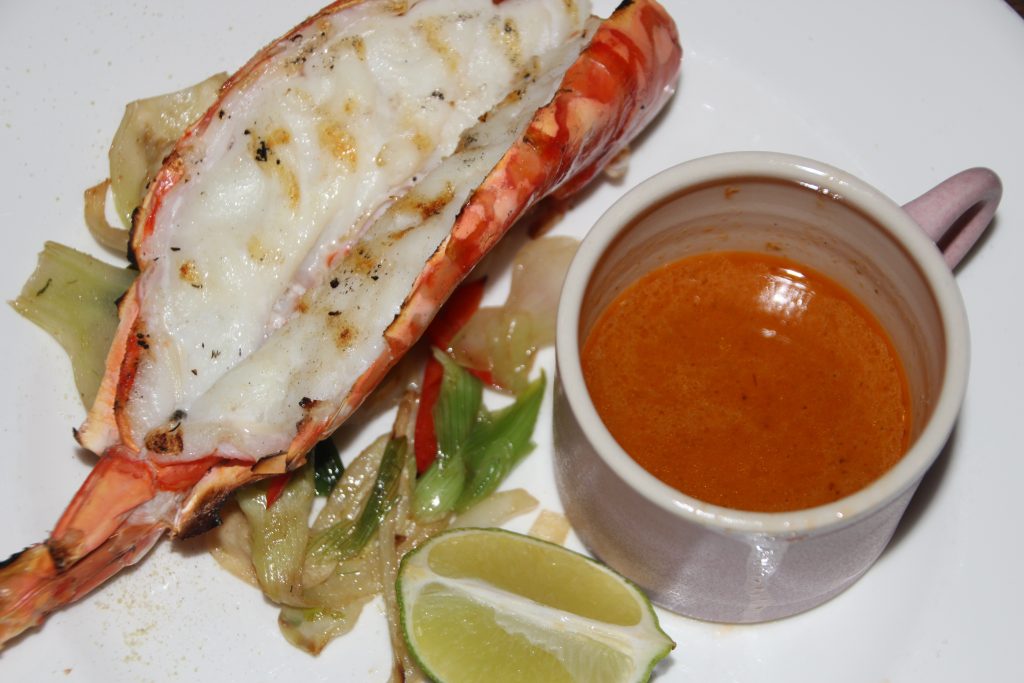 This combines french, chinese and thai cooking to try to get as much flavour out of the prawn as possible. The prawn is butterflied in the shell and lightly oiled and then barbecued very hot. But before barbecuing you use the heads as well to make a thai style bisque.
The red curry bisque.
2 Lemon Grass Sticks
1/2 teaspoon fresh grated ginger
3 dried long red chillies
1 clove of garlic
4 lime leaves
1 Lime
10 large prawn heads
2 tsp fish sauce
1 lime
1/2 tin of coconut milk
Soak the chillies for 10 minutes in hot water. Squeeze the water out. Add the ginger, garlic, limes leaves (without the stem), lemon grass, and either crush in a pestle and mortar for 10 minutes, or blend to a paste in a mixer (you may need to add a little water. In a pan, heat a little flavourless oil. Chop up the prawn heads. Add to the oil and lightly fry for 5 minutes. Add a little water to stop them burning. Then add the curry paste and the cream from the coconut milk. Cook until the oil separates. Add the rest of the coconut milk. Add the lime juice, sugar and fish sauce to taste. Add salt if necessary. Cook for 5 minutes. Then strain the mixture through a sieve, crushing the juice out of the prawn heads. Put the strained mixture back in a pan and reheat just before serving.
The Prawns
10 Large Prawns.
Pack of spring onions
2 red chillies
4 Cloves of garlic
1/2 tsp white pepper, 1/2 tsp chilli powder, 1/4 tsp aromat, 1/4 tsp salt, 1/2 tsp five spice powder
Mix all the dry spices together and set aside. Cook the prawns on a very hot barbecue for a minute on either side until just cooked. Sprinkle with the chili salt. Roughly chop and dry fry the spring onions, chillies and garlic.
Serve with the thai prawn bisque.