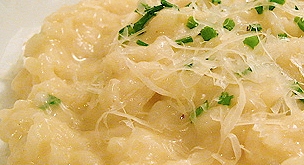 Now this recipe is fantastic for making risotto and possibly even better if you are making Arancini – the crisp balls of risotto that just melt in the mouth. It uses one of my wonder ingredients, white truffle oil. Expensive for a small bottle (Carluccios and Italian delis sell it), but it goes a very long way and makes an enormous difference. This is not for those who are worried about dairy consumption, aside from the mushrooms the other core ingredients are butter and parmesan.
For a starter for 4 people you need
Half an Onion
8tbl of risotto rice (2tbl per person) – arborio or carnaroli
One large glass of dry white wine (something like a sauvignon blanc)
A small bag of dried porcini mushrooms
1tsp of white truffle oil
One cube, Italian porcini mushroom stock cubes (make sure they are porcini)
4tbl finely grated parmesan
1tbl finely chopped parsley
1/2 of a pack of butter
Half an hour before you start. Boil one pint of water and put the dried porcini into it, mix in the stock cube as well.
Drain the porcini keeping the liquid, this is your stock. Boil a kettle of water (as reserve). Chop the onion very finely until it is smaller than the grains of rice. Put 1/4 of a pack of butter in a frying pan, heat until foaming then add the onion and turn the heat down to gently cook it for 5 minutes. You want it translucent, not browning. Add the rice to the onion and fry gently for a minute. Add the wine, and turn the heat up a little. You need the liquid to boil off fairly rapidly. You now need to constantly stir the rice. Once the wine has nearly boiled off, add some of the stock a ladle at a time. Boil if off and then add more, repeat the process until the rice is cooked. You may need to add a little water if you use all the stock and the rice isn't quite cooked. When it is cooked it should still have good bite, but have lost the chalky inside. The rice should also be wet, not soup like, but not dry. Now cut the rest of the butter into small cubes and add half, stiring all the time. Add the rest of the butter and do the same. Then add the parmesan and the parsley. Taste. It shouldn't need any salt. You may want to add pepper or even a pinch of nutmeg. Now add the white truffle oil. Stir and it is ready.
Have a light main course when having this as a starter.
If making arancini, let it cool completely and put it in the fridge. Arancini will be the next recipe.