This is a memory from many summer holidays in the Southern Algarve. In essence, this is an imported dish from Portuguese colonial times – East Africa. It is simple but works brilliantly as an alternative to plain rice. It goes very well with barbecued meats.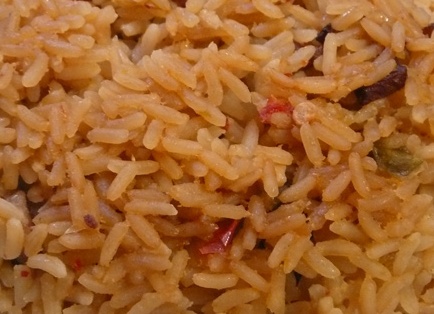 Ingredients
½ small pack of Long grain rice
Salt
2 tsp Sambal Olek
1 tsp caster sugar
1 tsp soy sauce
1 small pack pancetta cubes
½ red pepper
½ onion
Olive oil
Method
Cook the rice in advance as you need it to be cold. Put the rice into a cup to see how much there is as you want the same amount of boiling water. Pour the rice into a sieve and wash it in cold water to remove some of the starch. Boil a kettle and pour water up to the same amount as the rice was. Pour a little oil into the bottom of a pan and gently fry the washed rice. Add the water and a pinch of salt. Put the lid on and cook on low for 6 minutes. Take it off the heat and leave for another 7 minutes. It should be just cooked, break it apart with a fork and then let it cool.
Cut the onion and pepper into small cubes (about half a centimetre). A wok if perfect for this next bit. Pour in a tablespoon of olive oil. Stir fry the pancetta cubes until crisp. Add the onion and pepper and stir fry for 5 minutes. Add the rice and stir fry on medium heat. Add the sambal olek, sugar and soy sauce. Turn the heat down and fry slowly for 10 minutes. You want a few crisp bits. It is ready to eat.