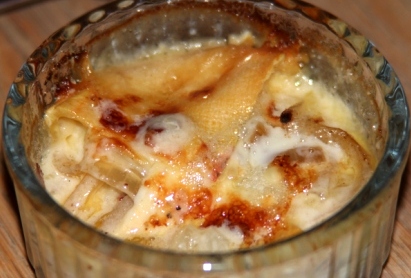 Having just returned from a skiing holiday, I thought that I should provide one of my favourite Savoyard mountain dishes, Tartiflette. Not for the light-hearted, this is a great lunch after a morning's hard skiing. Essentially it is just bacon, potatoes, cream and reblochon. You can add onion if you like and there appear to be many variations of it in the Alps. In mine I have added a little fresh thyme.
For two hungry people after half a day's skiing:
1 Reblochon
4 large waxy potatoes
2 tsp fresh thyme
½ an onion
4 small packs of lardons
4 tbl double cream
Ideally you will have two reblochon sized round dishes for this as this is what it looks best in. You can bake it all in one, but for me the best bit of a Tartiflette is that almost whole baked cheese look.
First cut the potatoes into 1/2 cm cubes. Par boil for 5 minutes. Slice the onion finely and fry without colouring in some butter for 10 minutes to soften. Take the onion out of the pan and add the potato cubes. Again cook them until tender without browning. Take the potatoes out of the pan and add the lardon, fry until crisp. Drain all the cooked ingredients of the butter and oil as the dish does not need any additional fats.
Cut the reblochon through the middle to form two perfect circles. Take your two cheese sized baking dishes and evenly sprinkle the potato, onion, lardons, thyme and double cream between them. Put a cheese circle on each, skin side up. You can now leave them until you need them.
Bake in a hot oven 180C for 20 minutes until bubbling all over. Eat with a fresh green salad.