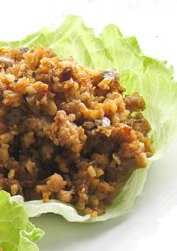 This dish is the ultimate flavour kick and works really well as an amuse bouche or starter. The recipe was my creation and borrows flavour from Thailand and Vietnam . When tasting the finished product it should be a little too sweet, salty, spicy for your taste buds. This flavour is then delivered in teaspoon sized chunks, wrapped in a lettuce leaf with a squeeze of lime juice and fresh mint and coriander leaves.
Ingredients
1 tbsp groundnut oil (or olive oil if you don't have nut oil)
400g minced pork
2 cloves of crushed garlic
1 tbsp Thai red curry paste (I know it is not genuinely Vietnamese!)
4 spring onions finely chopped
2 tbsp of Thai fish sauce / Nam pla
1-2 tbsp of caster sugar
Juice of 2 limes
1 small packet roasted peanuts
1 tbsp chopped mint leaves
1 tbsp chopped coriander stalks
To Serve
4 baby gem lettuces
2 tbsp mint leaves
2 tbsp coriander leaves
4 limes cut into quarters
Prep all the ingredients before you start (e.g. crush the garlic, etc). This is a quick dish to cook and you need everything ready. Now wash the salt off the peanuts and crush them in a pestle and mortar (if you don't have one chop them on a board). You want to be left with small chunks of peanut. Heat a wok or frying pan until it is very hot. Add the oil and minced pork. Fry the minced pork until it is golden and keep the pan very hot. If some juices come out of the meet reduce them in the pan until there is almost none left. Turn the heat to medium and add the crushed garlic and the red curry paste (start with one tablespoon, you can add more if you want it really spicy). Fry for 2 minutes. Then add the fish sauce and caster sugar. Reduce the liquid until there is a little left and it is syrupy in consistency. Add the spring onions and lime juice. Taste. If it is not sweet enough add a little more sugar. If should now be quite sticky and you don't want to burn the sugar. Take it off the heat and add the peanuts. Taste again, at this point it may or may not need salt. Mix in the mint and coriander stalks. Let the mixture cool completely and then put it in the fridge. Take it out of the fridge 10 minutes before serving. Separate the lettuce leaves and put the leaves, mint, coriander, chopped limes and pork in separate bowls. Everyone can now make their own. If you are doing an amuse bouche you may want to make them up first. Take a leaf, add a teaspoon of the pork, a couple of mint and coriander leaves, squeeze a little lime over the top.
Try it and it should be sweet, salty, spicy and sour.