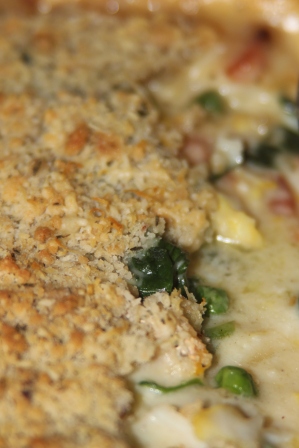 As we start the new year, with snow due to arrive in the UK I thought I would put in a new dish. It is one where the quality of the ingredients really matters, but if you get it right it can be great. It is definitely warming.  It is a savoury crumble, although some might actually call it a bake. Because of the flour and butter mix on top, I think you can credibly call it a crumble, but it is up to you. The arbroath smokie is one of the world's great ingredients, hot smoked fish at its very best. It is cooked and full of bones and therefore a bit tricky to work with. You can use smoked haddock but it is not as good.
Serves 8 as a hearty starter or good lunch.
2 Arbroath smokies (skinned and flaked)
1 large bag of spinach
1 clove of garlic – crushed
200g of gruyere finely grated
Large pinch of nugmeg
1 pint of milk
2 tbsp peas
2 tbsp of panchetta cubes or one small pack
4tbp of dbl cream
1 tbl plain flour
1/8 pack of butter
1 bay leaf
Crumble topping
Half a pack of butter
3 tbsp of plain flour
3 tbsp rolled oats
100g parmesan finely grated
100g gruyere finely grated
1 tsp dried rosemary
Put the flaked fish (this has to be done carefully as there are plenty of bones on an arbroath smokie) into a pan with the milk and cream, crushed garlic and bay leaf. Bring to the boil and allow to cool. Make a roux. Melt the butter in pan, add the flour and cook gently until it browns lightly and smells of biscuit (1-2 minutes). Carefully to avoid adding any of the fish, pour the milk/cream into the roux over a medium heat. Do this a little at a time and with a whisk to ensure you don't get lumps. Cook to a thickened white sauce. Add the cheese and stir until melted. Add the nutmeg.
Blanch the spinach in boiling water (cook for one minute and then refresh it in cold water), then squeeze all the excess water out of the spinach.  Fry the panchetta until crisp and add the frozen peas and fry for 1 minute. Mix all the ingredients into the sauce, fish, panchetta, peas and spinach, stirring gently so as not to break up the fish and the pour into an oven proof dish, or individual ramekins.
Now make the crumble topping. Put the butter and flour into a magimix and blitz. You should end up with breadcrumb like mixture. Add the cheese, oats and the rosemary. Blitz for 5 seconds. Evenly spread the crumble topping over the fish and cheese mixture. Bake in a hot oven 180C for 30 minutes, until bubbling.
Serve with crusty white bread.