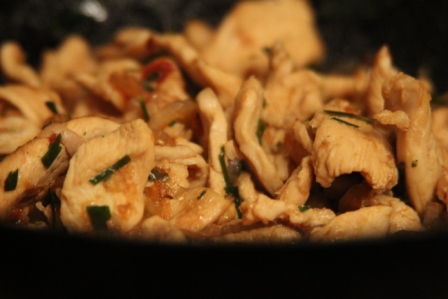 Lime leaves are one of those ingredients that are so fresh and aromatic, you wonder why they are not used in more cooking. This dish might not be totally authentic but it has a good thai stir fry flavour and can be adapted for anything. To get it really right, it is best made with a pestle and motar, if not, crushing the garlic and chilli works well.
Ingredients
1 tbsp peanut oil
2 Chicken Breasts sliced thinly
3 cloves of garlic
2 long dried red chillies soaked in water for 15 minutes
5 Kaffir Lime Leaves – thinly sliced
1 tbsp granulated sugar
Pinch of sea salt
2 tbsp fish sauce
1 tbsp soy sauce
1 onion, halved and sliced
½ a lime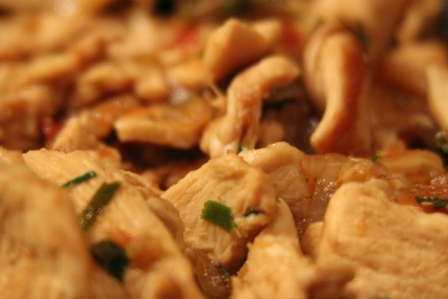 First make the paste. Peel the garlic, chop, slice the chilli and add to the pestle and mortar with the lime leaves, sugar and salt. Bash to a coarse paste. Heat the oil in a pan. Fry the paste for 1 minute, add the chicken and onion and stir fry until the chicken is almost cooked, add the sauces. Reduce for 1 minute. Add a squeeze of lime and serve on a bed of rice.