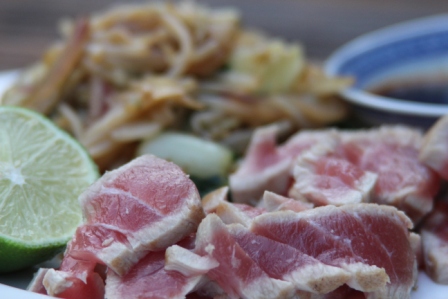 Having overindulged on summer holidays we are now well and truly back to reality. This recipe reminds me of hotter times over the summer and is low calorie. Depending on the size of the tuna steak it can be between 200-300 calories. Yellow fin tuna is far and away a better product and you need to buy it very fresh from a fish monger. The rest is very simple.
For 2 people
1 pack bean sprouts
1 pack bok choi
¼ onion
2 tsp soy sauce
1 tsp white sugar
½ tsp stock powder (marigold vegetable is very good)
1 tsp fish sauce
1 lime
1 dried red chilli
2 yellow fin tuna steaks
First put the chilli in boiling water for 15 minutes. Chop the bok choi into inch strips. Blanch the bean sprouts and bok choi in boiling water for 2 minutes. Refresh in cold water.
Make the sauce. Drain the chilli, slice and discard the seeds. Put into a pestle and mortar with the sugar and crush. Put 1 tsp soy sauce with the crushed chilli and sugar, fish sauce and lime juice into a bowl and mix. The sauce is spicy and ready.
Heat a wok with a brush of oil. Chop the onion into fine strips. Fry on a low heat until translucent. Add the bok choi and bean sprouts, add the stock and 1 tsp soy sauce and 1tbl of boiling water. Stir fry hot for 2 minutes. The bean sprouts are ready.
Heat a frying pan with a small amount of oil until it is smoking. 30 seconds a side cook the tuna. It will be rare inside. Take it out and slice it in ¼ inch slices. Put the tuna on a plate with the bean sprouts on the side. Put sauce in a bowl. Serve with half a lime.